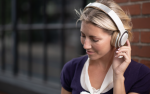 A new set of headphones on the market promises 100 hours of battery life, the equivalent of over four days of continuous playback. Never before has such an amazing battery life been available in the audio industry. The headphones also feature super-fast charging, a visually aesthetic appeal in colors and design, and high-resolution sound, all in addition to the unbelievable playback time. The long-lasting listening capability of the aptly named Enduro 100 headphones is brought to you by the San Diego-based audio brand, Cleer Audio.
High-performance and award-winning

Cleer Audio is a performance audio brand that offers award-winning high-performance headphones and speakers with the goal of delivering the ultimate listening experience to its consumers. They recently released their Flowwireless noise-canceling headphones to the United Kingdom this past year and are quickly becoming widely known in the UK for their high-performance and award-winning headphones.
The creators at Cleer come from the ranks of Sony, Harman, and Sound United. Their expertise combined has allowed Cleer to create the audio industry's first-ever 100-hour battery life wireless Bluetooth capable headphones.
The Enduro 100s are a Bluetooth capable wireless headphone and are designed for extended listening both in terms of ergonomics and battery life. They are a step up from the previously released Flow offering a much longer battery life amongst other features. Following all of their previous merits, these new headphones from Cleer combine outstanding product design and unmatched technological facilities.

Battery life that can last as long as you do

Lasting 100 hours from just one single charging, the Enduro 100 headphones from Cleer are the audio industry's first-ever headphone to secure this capability. With a quick five-minute charge, the headphones can produce an hour-long playback. This means that you could potentially charge the Enduro 100 to its full battery with 100 hours of playback in just under nine hours of charging. Needing a backup battery pack or spare headphones for longer listening may become obsolete with this groundbreaking headphone. The Enduro 100's long-lasting charge comes from its USB-C charging port, which enhances its endurance and allows for the quick charge.
The Enduro 100 is enabled with an 800mAh battery and Bluetooth 5.0 which has reduced power usage, improved speed, and greater range. Also included is the QCC3034 chipset from Qualcomm which helps support quality audio streaming, connectivity, and balanced power distribution. The inclusion of playback pause also helps extend the battery life to its maximum 100 hours when the headphones are removed from the user's head. The long battery life is useful for long commutes, weekend breaks and busy lifestyles where there is little time to charge your headphones each and every day.
Ironless audio driver technology

The Enduro 100s feature Cleer Audio's patented40mm ironless audio driver technology, which allows for listening with high-resolution sound and very low distortion. Cleer first introduced the ironless driver in their Flow headphones, which were widely received throughout the UK. The ironless driver features a ring-shaped array of strategically layered, rare Earth magnets instead of the usual single ring-shaped motor magnet based on ferrous materials. The magnesium alloy diaphragm used in the ironless audio driver yields a high-resolution sound because the transducer motor is free from distortions and can create a balanced and dynamic sound.
The ironless magnetic driver consistent delivers lower distortion than comparable drivers with a conventional driver. The distortion levels are between .1-.3%, whereas comparable drivers without the ironless driver hold distortion levels at .5-.6%, sometimes higher. Cleer's patented ironless driver offers low distortion and high resolution no matter the volume level.

Enduro 100 specs and features

In addition to offering low audio distortion and clear listening from the patented ironless audio driver, the headphones are Android compatible as well and include Google Fast Pair 2.0. This additional feature means that the headphones should pair with your device almost instantly with minimal to no connection time needed. Google Fast Pair is similar to Apple's near-instant and effortless pairing between the iPhone, or Mac, and their wireless earbuds. The Enduro 100 should instantly send a pairing request to your device's screen so there is no longer the need to dive into the Bluetooth settings on your device.
The Enduro 100s include AAC and aptX HD low-latency support. In regards to audio, aptX is the means to achieve CD quality (16bit/44kHz) sound wirelessly. For Bluetooth headphones with the best audio quality, this is a highly desired feature. It allows for enhanced audio quality when listening to music and also ensures audio is synchronized with video when wearing the Enduro 100s for watching movies, shows or playing games.

Stylish and ergonomically designed

The headphones are foldable for flexible storage when not in use. They have comfortable plush ear pads for enhanced comfort while wearing, which is significant considering their function is for longer wear. They are visually appealing and will be available in two colors, Stingray Grey and Coronado Sand. The hardware of the headphones is slightly heavier than a Sony XM3 and is made of solid 282g construction which still allows the headband to be flexible.
Verdict
The only downfall of the headphones is the exclusion of noise cancellation in the Enduro 100s. However, the noise cancellation feature was purposely omitted in order to allow for the extended battery life that the Enduro 100s boast. Noise canceling headphones are available from Cleer, but don't have nearly as long of battery life. To have such an impressive battery life is well worth the trade.
These ground-breaking headphones promising an industry-first of 100 hours of battery life are expected to become priced at £169.99 and become available at Harrods starting in September 2019. It is also important to note that the CleerEnduro100's pricing is cheaper than its closest competitor, the Sony WH-1000XM3 and the Enduro 100's battery lasts longer by 70 hours at full charge.
With such astounding and innovative features, the Enduro 100 headphones from Cleer Audio are a must-have purchase for 2019. There are no other Bluetooth wireless headphones on the market with such a remarkable battery life and incredible sound quality as the Enduro 100.