The Plantronics BackBeat Fit earbuds are great for active workouts and provide good sound quality with wireless Bluetooth capabilities. Their cost is $129, but their battery life is long-lasting and they are durable and stable in their build and fit. Additionally, they can be found cheaper if you shop around.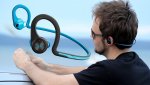 Capabilities

The Plantronics BackBeat Fit earbuds are wireless and Bluetooth 3.0 compatible. Bluetooth pairing to your smart device is easy and quickly done by holding down the audio button on the controls. Their range can be about 150 feet from their Bluetooth source. While Bluetooth 3.0 is not the most current Bluetooth version, it is acceptable for their price range, build and features.


The earbuds have the capability to be paired to more than one device at a time, but this causes a lot of issues when using the earphones and disharmony in their sound playback. Wireless connectivity has been noted to also have frequent connection drops at times when using devices other than a smartphone or mobile device.

Sound Level

The headphones offer a uniform sound quality. The sound is smooth but not as intense as some might expect for their higher price. Extreme high pitches and notes do not come off well-defined and the bass can be weak. They come with 13mm speakers that go up to 105dB for those who like it loud. The earbuds do not have a perfect seal in their fit, causing ambient noise to be bothersome at times during use in louder environments.


The sound quality of calls is excellent. Some ambient noise can still break into the earbuds, but overall call quality is not affected. There is also a "whisper mode" supported by the call feature. You can also use the control buttons as voice commands if your smart device supports it.

Comfort and Fit

There are no wires to worry about tangling or feedback in the cords. Instead, the earbuds are connected with a flexible silicone band that loops behind your neck or head. The headphones are extremely durable in their build. The material of the band is very bendable and can be twisted if needed for storage or travel. The band does provide some discomfort in its fit. The band does not adjust easily to a universal fit so it will need to be played with and adjusted to get the headphones tighter on your head and comfortable enough for long-term wear.

Usually, ear-hooks add a bit of weight to the headphones, but the Plantronics BackBeat Fit wireless earbuds are lightweight in their build. The ear-hooks are sturdy in their build a heavier material than the band connecting the earbuds.


The earbuds are a soft mold and made of a rubber-like plastic ear-hook and fit snuggly in the ears and remain secure and stable during aggressive workouts. They can handle bouncing and running without falling out.

Build Quality

The Plantronics BackBeat Fit Bluetooth wireless earbuds come with an IP57 rating, making them waterproof certified as well as resilient to dust and debris. This high IP rating also makes them sweat-proof which is great for workouts. Swimming or underwater use is also a favorable use with these headphones since they are not only waterproof certified but also Bluetooth capable.

The battery can last approximately six to eight hours depending upon volume usage, wireless connectivity, and other factors. The battery can be recharged using a micro USB cable included in the box. If you are strictly using the headphones for a daily workout, then you will not need to charge them more than once a week. The headphones require two hours of charging to reach full charge.


The headphones do come built with the smart inclusion of a standby hibernation mode. This mode can be activated when the headphones are left on but away from their source device for over ten minutes. The standby mode allows the battery to last for up to fourteen days.

Features

The controls are right on the ears, making them easily accessible. The earbud controls allow for control of power, audio play, pause, skip and fast forward, reverse, and volume. Additionally, there are voice commands connected to the controls for calling. The controls can be overly sensitive to the touch, and the volume button is a bit confusing to use. To adjust the volume using the included controls, you can tap the volume button to turn the volume up, but to turn the volume down you need to press and hold that same volume button. This means that the volume will most likely adjust up slightly before it turns down which can be inconvenient.


The Plantronics BackBeat Fit earbuds also come in multiple colors and are available in turquoise blue, black and silver, white and black and also a neon green color. They have a reflective coating to the headphones which helps if being used for night running and activities.


The headphones come with a reversible armband that is useful for holding your smart device or keys at the gym. The armband is more of a pouch and can be used to hold the earphones for storage. The box also includes a standard micro USB charging cable.
Pros

Neckband for strong stability

Good sound quality

Long battery life

Durable build


Cons

Sensitive Controls
Band fit is not universal
My Verdict

While their cost might be a bit high for some, the Plantronics BackBeat Fit earbuds offer a very good sound quality, a long battery life and are great for rigorous active use. The downside to the headphones is their band fit which can be difficult to adjust and fit universally. The controls can also be tricky at times, but serve their purpose if you can master them. The earbuds themselves have no trouble fitting universally but do not create as tight of a seal as expected which can affect the bass. Overall, they are a great purchase for wireless workouts especially with their IP57 rating for underwater use and their durability in build. And it is obviously true that Plantronics 2100 is best to build earbud for underwater users. If anyone like my opinion then you can check here my more work on the underwater earphone